Stainless Steel Fabrication
Bespoke Fabrication or off the shelf stock?
 Either bespoke made to your requirements or from our standard range of stock, we can supply you with the right sink, shelf, prep table, racking, canopy or even a hot cabinet to your specification.
Stainless steel wall cladding, filter housing, wall cabinets and more...
We can design and fabricate to a budget whilst still maintaining quality, our stainless steel products are manufactured in the UK, mainly in the East Midlands, this ensures the quality and deliver times are always met.
Got an idea and wondering if it can be made from stainless steel? maybe your own design? If you can get it on paper we can supply a quote to have it made!!
Canopies and Ductwork
Supply only or installed, not a problem!!
If you have a drawing of a new planned kitchen, email it over for a quote, or if your replacing a canopy either because its old or your re-arranging the kitchen, let us help, we can come and measure up for free (obviously locally to Nottingham or surrounding area's!!), tell you the reg's you need to follow, (many fabrication companies aren't Gas Safe registered and will design a canopy sized to the appliance line and forget about the legal overhang required!!), we only use quality grade stainless steel, safety edged as standard and supplied plastic wrapped/coated to protect during transport and installation.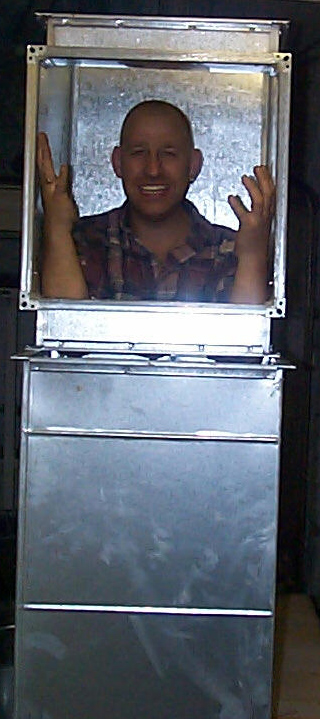 For the right fit !! Get it right the first time........
Unfortunately, we visit many commercial kitchen during an inspection/ service / certifcation visit, only to find either incorrect or no make up air, undersized ductwork that doesnt extract properly, canopies with incorrect overhang, continue to test and find high levels of Carbon Monoxide simply because of a poor quality design and installation, these appliance then need disconnecting intil the situation is made correct and safe, sometimes costing more than the customer paid initally to a cowboy with no idea but an ebay account...
All ductwork is sized to achieve the correct air flow for both extraction and the required 85% make up air input, giving the correct air changes the kitchen requires making cooking not only safe but a comfortable environment too.
Replacement fans are kept in stock in various sizes, we also recondition your old or broken fan including sandblasting the case, replacement bearings and a total rewind of the motor, it comes back as new.
The complete service, all one phone call away !!
Ducting that's made to fit!!! :)
An ducting installation in Northampton 20+ years ago, I doubt I'd fit in that now hehe.